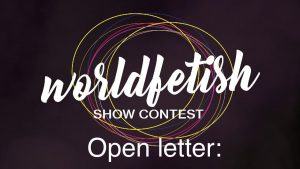 Dear WorldFetish fans,
Last Saturday many of us came together, even though most of us could not leave our homes. For the space of some extremely sweet hours we all were hooked to our screens, to our phones, to our televisions, sharing something unheard of just two weeks before. The fantastic guys from SLFC put together what can only be described as the biggest breakthrough of our community – yes, community, regardless of leather, rubber, pups, sports gear or drag-queens. Regardless your color or the letter in the LGTBQ+ community and even straight people, you name it, since COVID-19 erased all of our events. SLFC managed to get together 21 countries from around the world and would have nearly 8000 people cheer on everyone performing in this fantastic show.
Sadly, it has come to our attention, that not all of it has been cheering, joy, and fun. Bullying, although condemned within our community, shows its ugly face from time to time, and decided to charge against one of the contestants, tarnishing such a great initiative.
It takes courage to put yourself in front of the camera to try to make people forget about the ugly reality we all are living in at this moment. It takes even more courage to do so, when you know you are going to be exposed and judged. It is completely unacceptable that some members of our community have decided to get brave behind a screen and take their keyboard to attack people that have invested time, effort, and have put all their heart into their performance.
We – in the fetish community, love talking about freedom, and about respect, and now we have a chance to make things right, and to excel ourselves… As a community we cannot stand for discrimination and bullying. We are better than this, and we will prove it.
We are aware that this is just a letter, but it comes with the promise that we will improve, and that we will be worthy of the reputation that precedes us. We want to be thought again as the community that awaits with open arms to receive you.
Our warmest regards,
Rubber Mario – UK Jury Panel member (Author of this open letter)
in cooperation with
Janos Martenyi – President of the SLFC
and the board of SLFC:
Ander Bask Leather – Vice President of the SLFC & co-Host (E)
Henk Van Tilburg – Secretary of the SLFC
Cayetano . Webmaster SLFC and Board Member
Fabio Kuir – Board of SLFC and co-Host (F)
co-signed by:
Sue Panover aka Jamie Wake Mr.Leather UK 2017 and Host (UK)
Puppy Simba – Mr Puppy Spain 2020 (SLFC) & Jury President
JV London – Mr Rubber Spain 2017 – Spanish performer
Santi – Mr Fetish Spain 2019 (SLFC) – Spanish jury
Emerson – Mr Fetish Spain 2018 – Board of SLFC- Spanish jury
David Garcia Lopez (Galicia) – Member of SLFC & ILBS – Spanish jury
Patrick Marion – Maspalomas Fetish Week – Spanish jury
Ale Tedesco – Maspalomas Fetish Jay Mason – Spanish jury
Toni Ponce – Journalist and LGTB choir co-founder – Spanish jury
Bobbee Trans Mooremon – Creator of the Trans Leather Pride Flag
Haley Alice – International Ms. Leather 2019
Adam Leather – President of MLM & UK Jury President
Andrew Holt – UK performer, Mr Rubber UK & creator of "www.geartunes.live"
Ollie S. – UK Jury Panel
Jon – UK Jury Panel
Matt – UK Jury Panel
Chris – UK Jury Panel
Gael – Mister Leather Belgium 2020 – Jury President
John – Ireland Performer – Jury President
Cathal – Ireland Performer
Steve (PupBoner) Ireland Performer
Fionn – Ireland Jury Panel
Kevin – Ireland Jury Panel
Per Helge – Mr Leather Norway – Jury President
Leena Magnet – European Fetish Friend of the Year & Finland´s Jury President
Stephan Rollinger – Luxembourg Performer
Jeff Tucker – Luxemburg Jury
Laurent Chéry-Drouet – Mr Leather France 2018 – Jury President
Aurelien Normane – Mr Leather France 2017, Vice President Freedman – French Jury Member
Barka Xetal – Président Puppy Play France – France Jury Panel
Henry Falco – Photographe – France Jury Panel
Damien aixes- France jury panel
Oréo Xetal – Mister Puppy France – France Jury Panel
Zephyr Copper Xetal – France Jury Panel
Jose Sanchez – Luxembourg Jury Panel
Chris Rub – Italy Jury panel
Laurence – Lux Jury Panel
Nilo Xetal – France Jury Panel
Matteo – Vice President Leather Friends Italia – Italy jury panel
Bob Lee – Italy Jury Panel
Igor – Puppy italy 2020 – Italy jury panel
Fabrizio Paoletti Mr Leather Italia 2017 – Tuscany Fetish & Leather League Board – member of the Italian jury
Neri italian performer
Anna Italian performer
Torsten Burandt – Mr. Fetish Germany 2020 & Mr. Leather Hessen 2019 – German Jury Panel
Stefan Modschiedler – Bavarian Mr Leather 2019 – German Performer
Manfred – Bavarian Mr Leather 2017 – German Jury President
Benji – Bavarian Mr Leather 2020 – German Jury Panel
Joachim – Mr Leather Hamburg 2018 – German Jury Panel
Juan Müller – Estonian jury president
Liam Clark – Estonian Performer
Alexander Lindholm – Estonian jury panel
Mike – Estonian jury panel
Reio Randma- Estonian jury panel
Jérôme Mehats aka Galipette – Artishow Cabaret Performer -France Jury Panel
Luca Toffee – President of the italian puppy – France Jury Panel
Aurélien Normane – Mr Leather France 2017 – Freedmen Vice-President – France Jury Panel
Bart verrecas – president MSC Belgium – Mr leather Belgium 2018
Mikko – Finland Jury Panel
Kay Aslan – Puppy Switzerland 2017, President TSGH, Jury President Switzerland
Silverhuskie – Puppy Switzerland 2020, Jury
Tom Hurd – Mr. Fetish Finland 2019 – Finnish jury
Holter Finn – Mister Fetish Finland 2016 – Finnish jury
Onalle – Mr. Fetish Finland 2020 – Finnish jury
Vojta – CZ Jury Panel
Igy – Mr. Puppy Gran Canaria 2019, Czech jury member
Marcin – Polish Jury Member
Jabier Bassista – Belgian Jury Panel
Wilma De Fritt – Vice President TSGH Switzerland, Performer and Jury
Carsten Wiek – Vice President GearPoint Switzerland, Jury
Steffen RUHLAND – Member of board GearPoint Switzerland and Jury
Szymon Niemiec – Creator of Equality Parade, member of Polish Jury
Daren Eskriett- Australia Jury Panel
Stevio Blackhart – Mister Leather Europe 2020
Hexy Joe – Italian Fetishman of the Year 2020
Michi Gehring – Mr. Rubber Switzerland 2017 & Mr. Rubber Europe 2018
Suus Jury President – Ms Leather Netherlands 2019
Bo Monde, international DJ
Rachèl BeauJolie – Dutch Jury Member
Jacques Zonne – Dutch Jury Member
Wyatt – Dutch Jury Member
Alastair – Dutch Jury Member
Marcel van Doorn ¨Mr World Bear 2019¨
Michel Reilhac – Crew Member
Thijs Fransen -Crew Member
Robin Oudheusden – Crew Member
Stanley Starreveld Doesburg – Crew Member
Cliffton Doesburg Starreveld – Crew Member
Wilbert Wienema -Crew Member
Daniel Premack Israel Jury President
Udi Taurus President ILF and Performer for Israel
Oded Ninja Gross Mr Israel Leather 2019
Orr Friedman Mr Bear Israel 2019
Noam Roth Mr Bear Israel Organizer
Ethan Levine Secretary ILF
Charlie Keinman 1st Runner-up Israel Mr Leather 2019
Erez Avirahm Naturist/Bear Israeli Jury Representative
Tzachee Groupper Israel Mr Leather 2016
Csaba Tóth – Mr Bear Hungary 2016 President of the Hungarian Jury
Balázs Menzat (Mr Bear Hungary 2019) – Hungary Jury Panel
Jody Jury President Ms Adelaide Leather 2018
Bruce Bellingham – Australian contestant
Daren Eskriett – bearded charmer
Jason Pearce – Melbourne Rubberman 2019
Matt BLUF – Eagle Bar Sydney
Bee Beehop – Ms Leather Sydney 2015/16
Mike James – Australian Leatherman 2019
Pete Foley – MIR contestant 2019
Pierre Brand – Mr Australian and New Zealand Leather 2009
Pup Dodger – Australian Puppy 2019
Thomas Seggie – Pride of The Hide 2019
Loke – Board member of Puppy Play Sweden
Dante – President of Puppy Play Sweden
Zacharias – Board member of Puppy Play Sweden
N0X – Board member of Puppy Play Sweden
Corbin – Board member of Puppy Play Sweden
Zipper – Adjunct board member of Puppy Play Sweden
Kristofer – Former president of SLM Stockholm
Vladimir Chorchordin – Russian performer, Russian jury
Sasha Port – Russian performer, Russian jury
Pasha Grishin – Russian jury
Vlad Ermak – Russian jury
Aleks Krutov – Russian jury