The SLFC was created on 2017 after 2 years of malfunction and disagreement in the Spanish community, because the people who grounded a previous organizations thought that fetish is a business and only for a special group of people.
Already in 2016 a little group of leather friends gathered together in Sevilla on a friendly event to show that a fetish event can be based on friendship and not on money.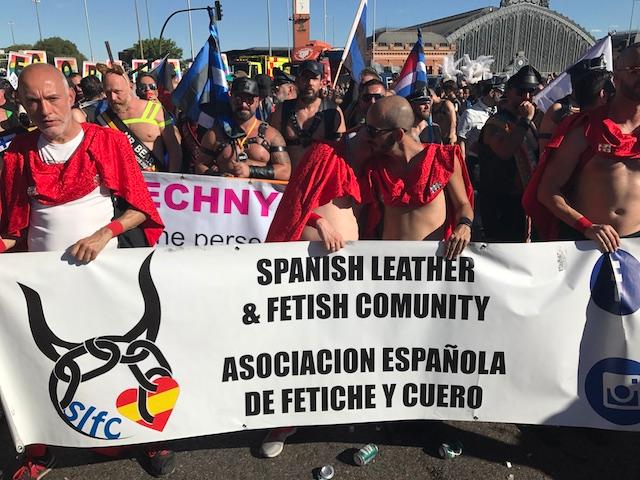 One year later the former Mr. Leather Spain 2017's tile was taken back because he wanted to bring the community together and because he was photographed several times with one of Spain's largest fetish retailers.
To keep his promise to reunite the Spanish community, which he made on the 6th of November 2016 when he was elected, he reached out to the Seville group and joined their second event as a civil person. Due to his immense popularity within the Spanish & European community he was asked to continue his goal.
The idea of a new community was born that night in Sevilla.
With the support of the Spanish and the European clubs we started to work. Creating the official documents to register our association. The papers were registered on the 10th of April 2017 by the Spanish authorities.
Official title: Spanish Leather & Fetish Community "SLFC" / Comunidad Española de Cuero y Fetiche "CEFC".
After the foundation we had an immediate success of the group that went upwards and found his way on national level were we came all together as one fetish community, after ILBS also Barcelona Rubber men & FistClubBarcelona joined us.
But we were successful not only national but also international level and we established our first cooperations/brotherhood between "SLFC" and one of the biggest clubs of the world, the German association: Münchner Löwen Club e.V. MLC Munich.
One year later we bounded with The Swiss Gear Heads.
Our motto is "Together we are stronger…"
Dedicated to the Leather & Fetish Community
The Spanish leather & fetish community is a nonprofit organization run by a number of dedicated leather & fetish men. We love all our members and everyone is welcome in our club, young or old, with hundreds of fetish gear or with just one item.
Take a quick glimpse of the board & core members of our club: